Introducing ACC
XipLink´s Advanced Cellular Compression (ACC) solution allows Mobile Network Operators (MNO) and Satellite Service Providers to boost mobile throughput, further edge-out their networks by substantially reducing backhaul costs and increase service revenue. A XipLink optimized network differentiates an MNO's service offering by enabling the transport of more customer traffic over a satellite or wireless link while simultaneously improving the Quality of Experience to the downstream subscriber.
Designed to significantly reduce satellite or microwave bandwidth consumption in either dedicated or shared IP network environments, XipLink's ACC solution leverages field-proven 2G, 3G, 4G & 5G optimization and acceleration algorithms specifically developed to reduce OPEX and improve the user experience. The result is a dramatic improvement in access speed and reduction in bandwidth consumption across the Radio Access Network (RAN).
XipLink´s ACC is particularly useful for rural or remote areas underserved by terrestrial backhaul technologies where low ARPU and subscriber concentration limit mobile coverage due to prohibitively expensive operational costs. This situation is very evident when using satellites for backhauling traffic from the remote sites to the network core. Even when using high-throughput satellites (HTS) for backhaul, the combination of ARPU pressures and satellite spectrum OPEX demands the use of bandwidth-saving solutions with high lifetime value. Furthermore, in moderate-ARPU locations served by satellite backhaul, XipLink not only reduces satellite bandwidth but also boosts performance via TCP Acceleration.
Both the XA hardware platform and XV virtualized solution deliver transport-aware and mobile network-aware optimization solutions that maximize savings, network performance and user experience. ACC is a proven and reliable backhaul transport solution that saves millions in annual backhaul OPEX globally, while improving performance and network availability.
Advanced Cellular Compression Benefits
Proven Solution: deployed by over 50 MNO's on thousands of base stations
OPEX: dramatically reduces backhaul bandwidth
Latency: mitigation of delay improves TCP throughput
QoE: enhances subscribers' user experience
Scalable: supports backhaul link bandwidth from 4 Mbps to 1.3 Gbps and hub capacity to 40 Gbps
Availability: flexible prioritization of traffic types through an advanced hierarchical class-based QoS mechanism
Intelligent: identifies traffic types and invokes traffic steering logic to guide flows to proper destination
Flexibility: interoperates with any satellite modem or RAN platform
SLA: assists in meeting MNO's service level obligations
Performance: provides "modem assist", where satellite modems lack the necessary performance capabilities
XipLink Multi-Service Optimization 2G, 3G, 4G & WISP

Overview
XipLink's 2G, 3G, 4G & 5G ACC solution is comprised of a suite of functions designed to address the disadvantages associated with expensive backhaul transport resources. ACC delivers RAN IP optimization by way of a flexible XA hardware platform or a XV virtualized solution, both capable of scaling support from 2G IP to high-throughput 4G and 5G environments.
The XipLink Mobile Backhaul Optimization & Acceleration solution is delivered with high-ROI and extensibility functions that the industry has come to expect from XipLink. XipLink continues to leverage the highly scalable ACC solution to address performance issues associated with constrained wireless networks (latency, high cost, error rates and asymmetry) through highly tuned and differentiated rate control algorithms.
XipLink Applications
XipLinkApplications

2G Abis

3G lub

3G luh

4G S1

5G NG3

TCP Acceleration
Increased Throughput & Improved QoE 
 
 
Optimization 
Bandwidth Reduction

Mobile Backhaul Traffic Steering 
Efficient Backhaul Routing & Improved QoE
With XipLink's ACC, MNO's and SP's realize:
OPEX Savings – from optimization and compression techniques purposely built for the mobile environment that include TCP Acceleration and Traffic Steering
Latency Reduction – providing key quantifiable improvements: o Increase in TCP throughput at the mobile station by up to 400% via TCP Acceleration
Improved Availability – bandwidth management and QoS enhancements improve network performance
         o Eliminating congestion over IP or satellite links
         o Prioritizing high margin mobile services such as voice over data
Scalable and Cost-effective – transport solution for 2G, 3G, 4G, 5G and multi-service backhaul
GTP Transparency
More recent mobile transport protocols face an additional challenge when carried over higher latency transport networks such as satellite. Both the 3G Iuh, 4G & 5G protocol encapsulate user data in GPRS Tunneling Protocol (GTP), requiring the GTP to be decoded to allow TCP Acceleration and Optimization. The XipLink platform is composed of three layers: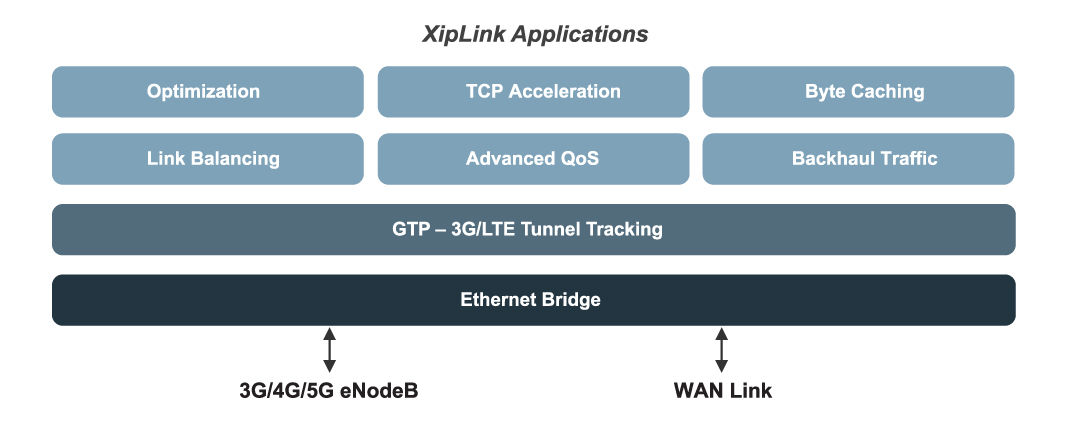 Ethernet Bridge – Filters and captures all IP/UDP/GTP and SCTP traffic. Traffic not matching the filter continues across the bridge.
GTP - Dynamic Discovery – The solution dynamically discovers GTP Tunnel Endpoint IDs (TEIDs) without requiring manual configuration or access to the control plane traffic, reducing operational overhead.
XipLink Applications – Optimization, TCP Acceleration, Byte Caching, Link Balancing, Advanced QoS & Traffic Steering from the GTP layer.
TCP Acceleration
Today TCP represents more than 95% of mobile backhaul data traffic. TCP can have reduced data throughput and degradation of video streaming when encountering congestion, packet loss, jitter and latency. The XipLink TCP Acceleration feature significantly improves the performance of traffic on the RAN, which provides subscribers increased throughput speed that fully utilizes the available bandwidth and improves Quality of Experience. The XipLink solution applies acceleration to both uploads and downloads, all TCP applications and encrypted traffic (HTTPS).
Additionally, TCP Acceleration can also manage bufferbloat across the RAN. It is common for routers to use buffers to handle bursts of traffic by increasing latency slightly rather than dropping packets, but excessive buffering can lead to packet delay variation (jitter) and reduce network throughput, known as bufferbloat. XipLink's TCP Acceleration can intelligently reduce bufferbloat. Once the solution detects too much data is being buffered for a specific subscriber, it will reduce the data rate for the subscriber in order to give time for the buffer to reduce. This eliminates dropped packets and jitter frequently caused by bufferbloat, while minimizing buffer-induced latency and significantly improving the user experience. 
By adding XipLink's TCP Acceleration, MNOs can gain the following benefits:
More responsive/interactive browsing thanks to minimized buffer-induced latency
Improved QoE: Faster download and increased application performance 
Maximize encrypted throughput, increasing speeds by 400%+ 
Reduce video streaming time by as much as 60% with rapid ramp-up
Sustain faster speeds to reduce/eliminate buffering and deliver higher quality/resolution
Reduced time to reach the full available bandwidth
Optimization
XipLink's RAN optimization solution processes mobile traffic using a multi-stage optimization algorithm designed specifically for mobile networks with bandwidth savings up to 50% and up to 90% packet rate reduction. This algorithm leverages mobile and network transport domain expertise. The stages are defined as:
Robust Header Compression (ROHC) 2G & 3G Iub
ROHC removes unnecessary headers and treats the upload and download backhaul paths independently. Since headers have large constant fields (per stream) ROHC will omit and replace these.

GTP Header Compression (GTP-HC) 3G Iuh, 4G & 5G
In 4G backhaul networks multiple IP header chains are present in an IP packet. The XipLink header compression schemes will compresses all header chains, inside and outside the GTP header. Header chain for 4G & 5G can be 76 to 116 bytes depending on inner and outer IP versions.

Packet Coalescing
Packet Coalescing groups multiple header-compressed packets together into a single packet. Compressed packets are concatenated within the coalesced packet. This allows the IP headers of individual packets to be compressed yet provides an ultra-lightweight shell that provides route-ability and the same DSCP mark as the packets it contains. Since fewer packets are sent, overhead is reduced, resulting in considerable bandwidth savings.

Coalescing is efficient and effective for mobile backhaul voice traffic as bandwidth savings of up to 50% can be achieved on small packets.
Packet Coalescing also addresses the packet-per-second (PPS) limits on satellite modems that are especially apparent in mobile backhaul. This provides "modem-assist" to satellite modems. XipLink essentially extends the life of modems, or a customer can use a less powerful/expensive modem. With Packet Coalescing, PPS can be reduced by up to 90%.
Payload Compression
Proprietary lossless compression algorithms, specifically designed for mobile signaling and data packet service, are applied to all outgoing WAN traffic
Byte Caching
Byte Caching is a technique that stores repeating byte sequences in a rapid-access data cache, allowing XipLink to replace these repeating strings with small tokens to significantly reduce the amount of bandwidth required over WAN links.
Typical benefit when a "hit" or pattern match occurs is 80% reduction in WAN capacity requirements or a five times speed improvement in data fulfillment rate if the link is congested.
Mobile Backhaul Traffic Steering (MBTS)
HTS is lowering barriers for service providers facilitating deployment of satellite backhaul in new ways. Better satellite economics and higher throughput now allow service providers to leverage HTS not just for the rural, hard-to-reach remote areas but also in suburban environments where terrestrial backhaul technology may be available but with peak-hour congestion and traffic bottlenecks.
XipLink's MBTS allows MNO's contemplating roll-out of a 4G/5G network overlay upon their existing 2G/3G networks to utilize the existing microwave backhaul network, instead of having to replace it. This can be achieved by optimizing the existing microwave links and using the saved capacity to carry LTE traffic.
When the microwave link reaches full capacity the excess data traffic can be intelligently routed over alternate lower cost services such as MPLS, DSL or satellite services in rural or remote areas.
In the example below, when microwave capacity reaches 100%, part of the 3G/4G data traffic will start to route over satellite. Real-time traffic like voice and signaling will remain on microwave. Mobile backhaul traffic on both the microwave and satellite links is optimized.

MBTS allows MNO's to extract years of extra service from the existing backhaul infrastructure through advanced optimization techniques that reduce/delay CAPEX investments, while managing seasonal or daily traffic shifts without over-dimensioning existing microwave infrastructure.
Another use case is where remote sites are connected using expensive C-band satellite capacity. Use of C-band has the key advantage of not being significantly affected by rain-fade, whereas lower cost Ku and especially Ka band capacity can have significantly degraded availability due to climate conditions. Using MBTS would provide optimization of all the backhaul traffic and at the same time allow high-value signaling and voice traffic to be routed via the C-band equipment and lower value data traffic via Ku or Ka band capacity.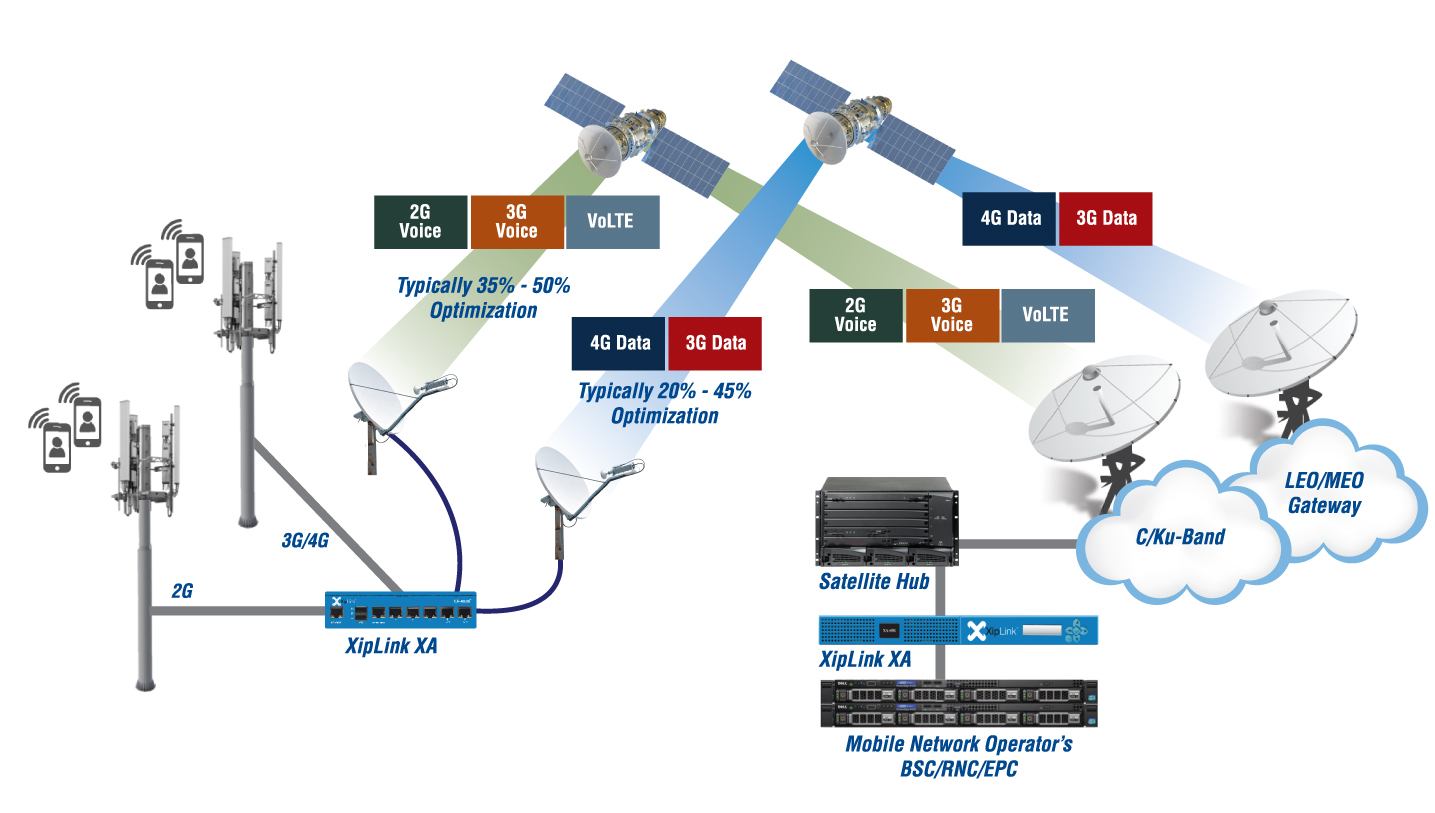 IPsec Security
For MNO's requiring end-to-end backhaul security to protect user data, voice, and signaling. XipLink provides Decrypt-Optimize-Encrypt (DOE) function to preserve the security of the backhaul link while still offering TCP Acceleration and Optimization that results in increased throughput and performance.
XipLink's ACC can optionally enable a fully compliant standards-based IPsec solution from the selected XA or XV platform. XipLink preserves IPsec while at the same time accelerating and optimizing the backhaul traffic to increase data throughput and user experience.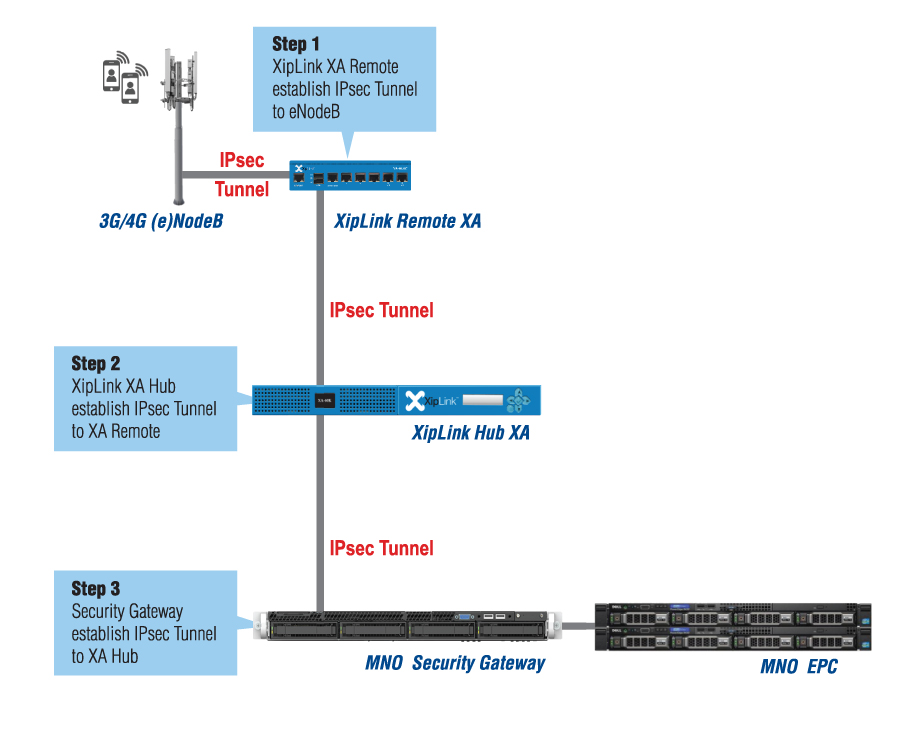 Quality of Service (QoS)
The XipLink solution helps MNO's to increase the performance of their wireless backhaul links, enabling them to adhere to service level obligations (SLA's). This QoS enforces fine-grained control of users, groups, applications and services to ensure the defined SLA is delivered upon through hierarchical and user-defined QoS. Real-time and historical statistics support the validation of SLA compliance.